My WiFi connection keeps dropping
The tips below fix most common wireless issues, so give them a try and you'll likely see an improvement. If you don't, we're still here to help. 
Connect to your master socket
Your master socket is the point where the external phone line enters your office. It's a white, plastic square built into your wall, and can usually be found in your hallway, or near your front door. It will be bigger than any other phone socket in your house and offers the strongest broadband signal.
All the other sockets in your office are connected to your master socket with extension wiring. This type of wiring isn't ideal for carrying broadband signals and can become damaged over time. That's why it's important to always connect your router to your master socket.
If you don't have a master socket and would like one installed, we can arrange that for you. Please note that there is an additional charge for this. For more information, please contact us.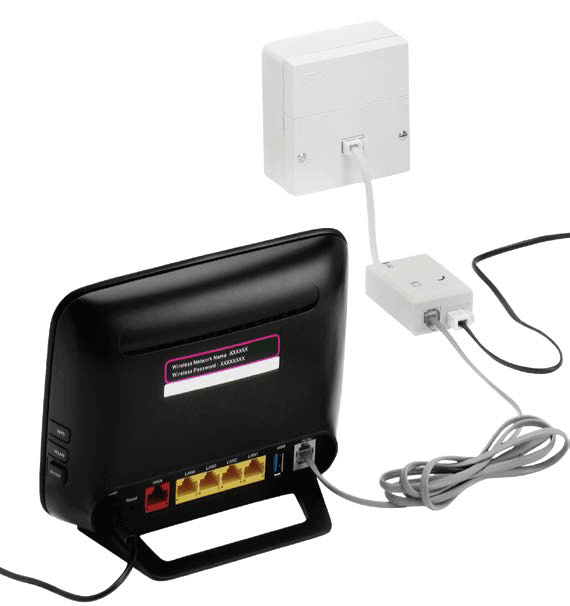 Check whether you need microfilters
A microfilter is a small device that stops your phone signal from interfering with your broadband signal, and vice versa. 
You'll only need to use microfilters if you have a standard master socket. If you have a pre-filtered socket with two ports built in, you won't need to use any.
For your microfilters to work properly, you'll need to plug one into every socket you're using in your office.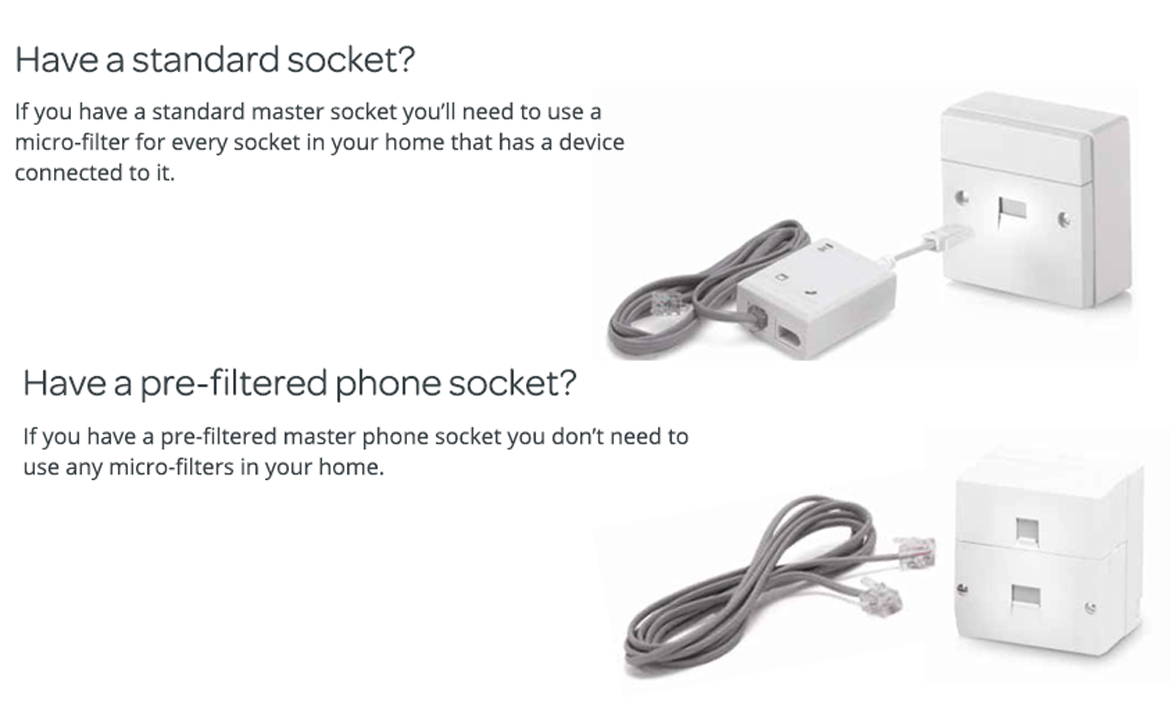 If your microfilters are faulty or set up incorrectly you're likely to experience connection issues. Our tips below will help you get the most out of your microfilters:
Don't use two microfilters by plugging them into each other. 
Don't plug a microfilter into an empty socket – only plug them into the sockets you're using.
If you don't have enough microfilters for all the sockets you're using, unplug some devices and leave them unplugged until you can get some more.
Your microfilter might be faulty – try a different one to see if this fixes the problem.
Reboot your router
To restart your router, simply turn it off at the mains and leave it off for 30 seconds.
After 30 seconds, switch it back on and wait for it to fully boot up. Once it's booted, you may need to reconnect your computer or any other devices to your WiFi.

Improve your wireless range
Keep your router free from obstacles and in an elevated position if possible. This will allow your router to give out a clear and uninterrupted signal.
Electrical appliances like microwaves and cordless phones can also disrupt your broadband signals – especially WiFi – and cause them to slow, so it's best to keep your router away from these.
If your router has an antenna, make sure it's pointing upwards. You should also keep your router in a central location in your office to get the best coverage possible.
Change your wireless channel
If lots of people in your office use the same wireless channel, the channel will become too busy which slows your WiFi down.
The majority of bOnline routers automatically broadcast over the best wireless channel.
Try a wired connection
Try connecting your device to your router using an Ethernet cable. This can help determine if your wireless set up is causing your broadband connection to drop. 
Connect one end of the yellow Ethernet cable to the Ethernet port on your computer.
Connect the other end of the cable to one of the yellow LAN ports on the back of your router.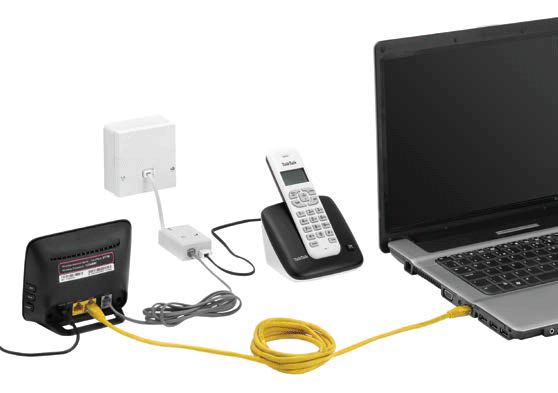 If your broadband connection is stable using a wired connection, your wireless set up could be causing your connection to drop. 
Try your test socket
Your test socket is located inside your master socket. By plugging into your test socket, you bypass all the internal wiring in your office and connect your device directly to your phone line. This makes it the ideal point to test your internal wiring for faults.
To check whether you have a test socket, and for instructions on how to access it, please see what is a test socket?

---
---