What are microfilters and how do I use them?
A microfilter is a small device that stops your phone and broadband signals from interfering with each other. Without microfilters you're more likely to experience slow broadband speed, drops in your connection or noise on your phone line.
Microfilters have two ports:
An ASDL or DSL port for connecting your router.
A Phone socket for connecting your telephone, digital TV box or answering machine.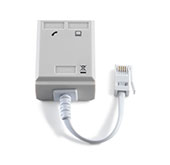 Do I need to use microfilters?
You'll only need to use microfilters if you have a standard master socket. If you have a pre-filtered socket with two ports built in, you won't need to use them.
For your microfilters to work properly, you'll need to plug one into every socket you're using in your office. You'll get two microfilters with your router, but if you need more you can buy them online, or from any electronics shop.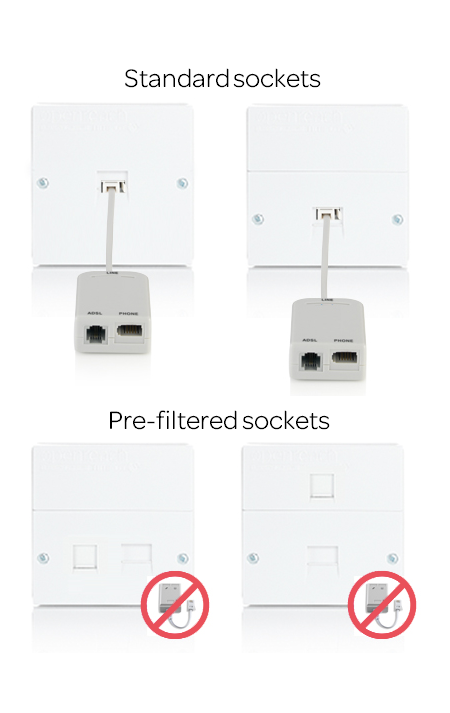 How do I connect my microfilters?
Microfilters are easy to connect, all you have to do is:
Remove any devices that are plugged into your master socket.
Plug your microfilter into your master socket.
Plug your phone cable (or other device) into the Phone socket on your microfilter.
If this is the socket you plan to plug your router into, plug the broadband cable from your router into ADSL/DSL socket of your microfilter.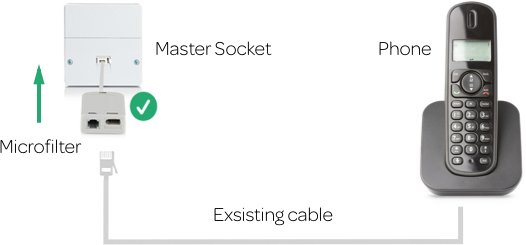 What if I'm having problems with my microfilters?
Take a look at our top tips below to get the most out of your microfilters:
Don't use two microfilters by plugging them into each other. 
Don't plug a microfilter into an empty socket – only plug them into the sockets you're using.
If you don't have enough microfilters for all the sockets you're using, unplug some devices and leave them unplugged until you can get some more. You can purchase them from any electronics shop.
Your microfilter might be faulty – try a different one to see if this fixes the problem.
---
---